Discover What Lighting Is Best For Upgrading Your Kitchen
The 3 Kinds Of Kitchen Lights You Need To Work With:
The three lighting options you need to know about are ambient, tasks, and accents.
Ambient Lighting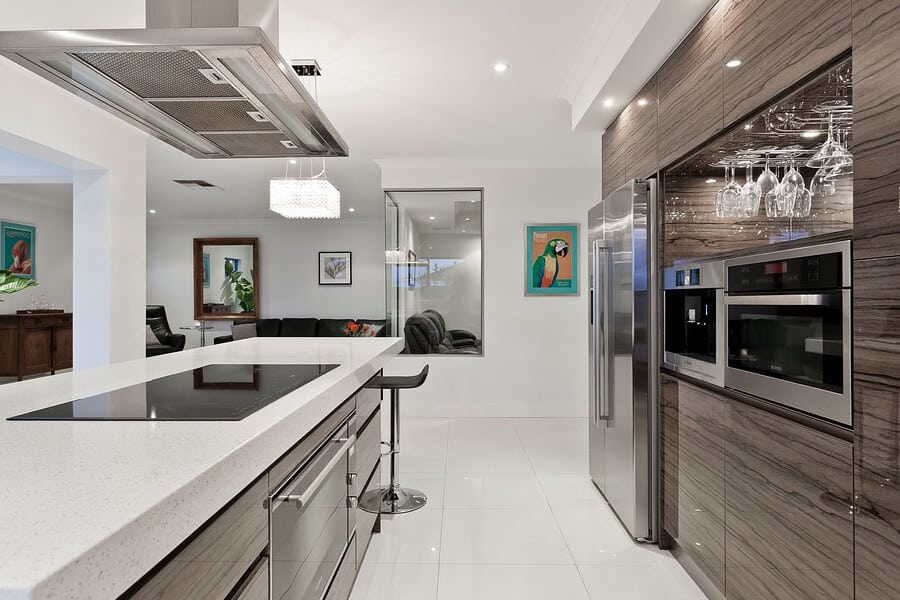 Ambient lighting is used to add to the natural light coming into the kitchen or the lack thereof. You want to create lighting that is even and well laid out. You might want to consider having these lights coming from your ceiling. You have a range of lights to choose from including recessed lights, flush-mounts, chandeliers, or pendant lights.
Task Lighting
The downside to ambient lighting, it leaves shadows in certain areas of the kitchen that you need better light for. Task lighting will improve your surfaces such as counters and other surfaces so you can easily prepare meals and read recipes without difficulty. Good cabinet lighting will help you find items you need to cook with such as finding the right spices or ingredients. Some options that are available include strip lighting and puck lighting. Puck lights are either oval or round and perfect solutions for cabinets or for displays.
Accent Lighting
Accent lighting is the perfection solution for literally accentuating an area or an item in your kitchen. You might consider toe kick lights that offer an easy way for good lighting. These lights can highlight a space for little cost. These lights are used for safety as well as to accentuate. Toe kick lights, as well as other lights, will help you create an ambiance that works perfectly in your kitchen.
Illuminate Your Favorite Areas:
When addressing your kitchen island, you should consider either ambient or task lighting. Determine what your island's main purpose will be such as a cooking top, a place to just hang out, or as a workspace. Once you've determined what that space will be used for, you can start your lighting project.
Option Number One – Hanging Lights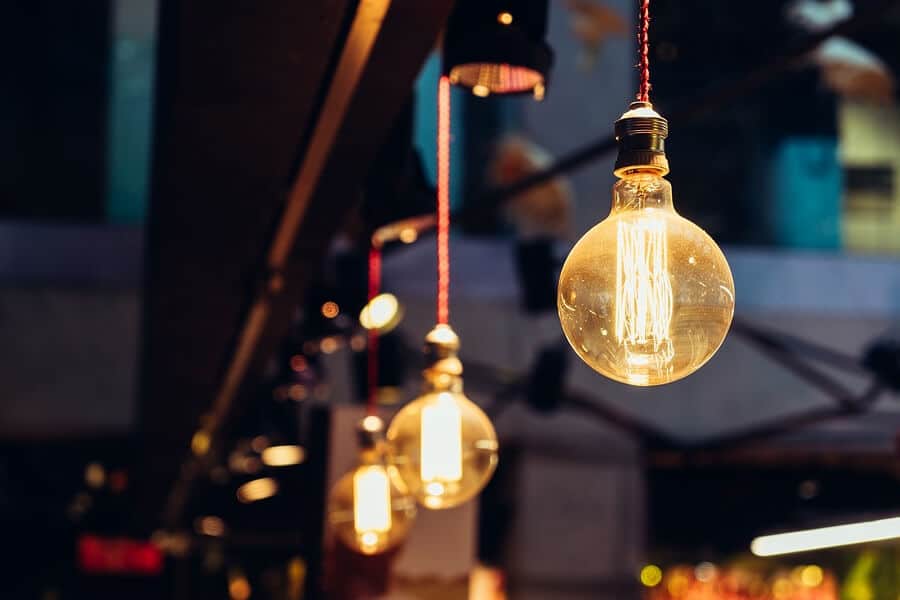 If your island will be primarily used for preparing food and reading recipes, you might want to consider recessed down-lighting and/or hanging lights. On the other hand, if your island will offer seating and used for hanging out, you could choose something as simple as mini-pendant lights. These lights are perfect for small spaces and will add great light to darker areas of the kitchen. They should at least 30 to 32-inches apart from each other over the island and 6-inches from the edge of the island.
Pendant Lighting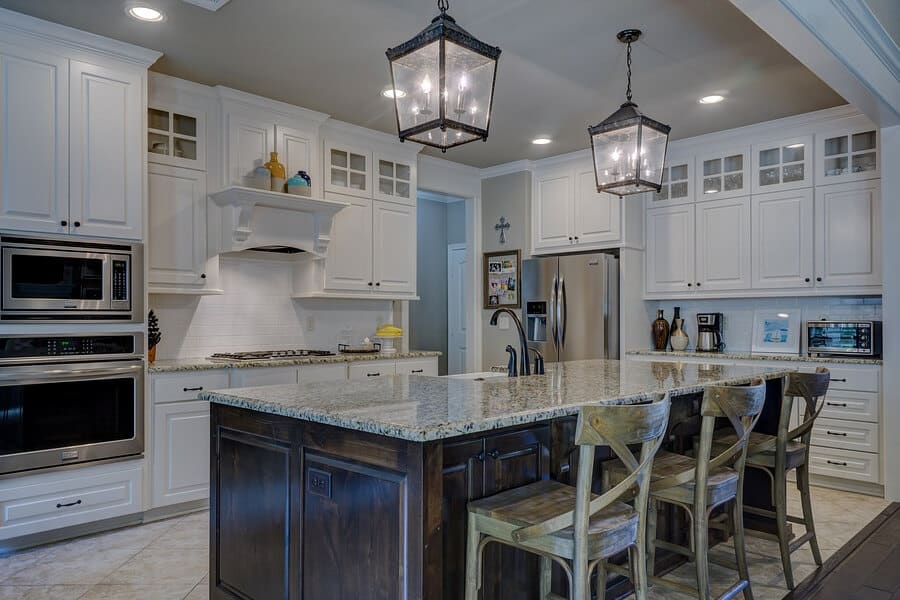 If pendants seem to be the best option, make sure a set of two lights are over the kitchen island and at least 30-inches from the center of the island. A set of 3 pendant lights should also be 30 to 32-inches high and evenly spaced at 6-inches from the edge of the island. For countertops, they should be installed with 30 to 32-inches between the countertop and the bottom section of the pendant.
Option Number Two – Suspension Lights
Linear Suspension Lighting is great for kitchens with high ceilings. You can add one that is at least 40-inches over your countertop.
Under-Cabinet Lighting:
With accent and task lighting, you can just add a few of both which will offer better lighting as well as create a modern, creative look. As mentioned earlier, ambient lights are a good choice to navigate around your kitchen but often leave some areas in shadows such as under cabinets where more light is required.
Under-cabinet task lighting is excellent for working surfaces and cabinets to create good lighting for preparing meals, reading recipes, and finding the spices and ingredients you need to work with.
Work With People In the Know:
Before choosing your lights we highly recommend you get with a knowledgeable sales or support person to help you choose the correct sizes, the right materials, and level of brightness you want for a specific area in your kitchen. They will also help you map out your lighting plan for the very best look and ambiance.
Checkout The Under-CAbinet Collection By Legrand
You Should Layer Your Lighting For Under-Cabinet Lights
The most popular under-cabinet lighting options:
Strip Lights
Not only are strip lights versatile but are excellent for providing light to a cabinet's interior. This is especially true for cabinets that do not receive much light or no light at all. LED strip lights are great for under-cabinet areas and will add great light for counter spaces.
Puck Lights
These lights come in oval or round designs, are excellent mood lights and serve really well for countertops forming scallops, spots, or pools of light.
Focusing On Your Ceiling With Ambient Lighting:
Rule of thumb, the higher the lights the brighter your area. Fill your kitchen with a lot of light!.
Option Number One – Recessed Down-Lighting
Recessed down-lighting is necessary, if not critical, for ambient kitchen lighting. If you have a small kitchen, you might be able to pull off a flush-mount ceiling light directly in the center of the kitchen but using recessed lights will give you the ability to customize your lighting designs.
The idea is evenly spreading light throughout your kitchen while focusing on lighting for areas that are high-end activity spots. Consider providing straight lines of light across your counters and if you are concerned about too much light, add dimmers to control the level of light at a given time.
Learn more about recessed lighting with this handy guide.
Shop for Smithfield C Flush-Mount Ceiling Lights by FLOS
Option Number Two – Flush-Mount Or Semi-Flush-Mount Lighting
These lights are perfect if you don't have a large area to light. Semi-Flush-Mount lights will give you the ability to add more creative touches to your kitchen, unlike recessed lights.
Add Style & Design To Your Kitchen With Accent Lights:
With a well thought out plan, you can design a great kitchen by highlighting your favorite areas or elements. Here are the most popular accent lights:
Recessed Lights
These lights are so popular because they can be placed anywhere and not overwhelm your kitchen. They are also perfect if you want to highlight a particular area such as an antique bookcase or a stunning glass cabinet.
Over-Cabinet Lights
These lights can be placed in between a cabinet and the ceiling, over-cabinet lights will add a dramatic touch to your kitchen design. Over-cabinet lighting will offer balanced lighting to add an accent to your decor or unique structure.
When layering, you should make the most out of the space you have by creating a wonderful place for family and friends to gather.