Your Dream Kitchen
Looking to build your dream kitchen? Don't know what to expect? Don't worry, this is actually very simple. When you call in for a free consultation, our experienced staff will assist you in designing a remodel for your kitchen. During this initial design phase, we will help you choose from the three most popular kitchen designs in Mississauga. Those three designs are traditional, modern, and transitional.
The traditional kitchen is quite elegant, the majority of the kitchen cabinets will be made of rich wood. Stone counter tops are a common counterpart to the cabinets, and appliances tend to be dark so they do not distract from the main cabinets.
Modern kitchens are known to be very utilitarian. Although most have an aesthetically appealing factor, they serve to accomplish kitchen related goals in a very efficient manner. The use of metal and glass is common, while white and black paint is often favored among others. The cabinets are designed to be purposeful and efficient.

Prices
Unbeatable Prices

Quality
Outstanding Quality

Experience
41 years of experience

Terms
Always on time
Our portfolio
Feel free to peruse a selection of our previous designs and redesigns. We hope you will find a project that closely resembles your vision. If not, we have more. Contact us directly for examples of any kitchen you want to see – from classic to contemporary.
The transitional style of kitchen is a mix between the above two styles. A highly efficient kitchen that utilizes the wooden beauty of the traditional phase. This is perhaps the most favored among homeowners in Mississauga.
Worried that your design may not fall under these three categories? Not to worry. We completely understand that everyone's perfect kitchen is different. Our staff here at Classic Kitchen Design are dedicated to making you happy, rather than following the status quo of kitchen designs. Remember, your priorities, are our priorities.
Get your free consultation now!
It's no surprise that your home is perhaps the most used location by you and your family. After all, it's the place where memories are made. Children grow up, games are played, movie nights enjoyed. However, one thing stands above all else. The kitchen. The kitchen is the heart of your home. Guests are entertained in the kitchen, meals are prepared, and family meetings around a bowl of popcorn and chocolate are nothing but familiar. With this in mind, it shouldn't come as a surprise to anyone that kitchen renovation and remodeling in Mississauga is the most popular of any room in the average family's home. Remodeling is perhaps the best way to enhance what you can do in your kitchen. From painting to installing new appliances, you'll be able to do whatever you like. To top this all off, the average home value in Mississauga rises thirty percent following a kitchen remodel.
Our Competitive Pricing
Here at Classic Kitchen Design, we understand that budgets exist. After all, seeing as kitchen remodeling is so popular, the fact that kitchen remodeling is often the most expensive should come as no surprise. We work to stay within your budget, without sacrificing any quality at all. We have access to high-quality materials, that won't break the bank. Our prices are notably some of the best among Mississauga as well as the Greater Toronto Area.
Here at Classic Kitchen Designs, your priorities become our priorities. Our highly trained staff will complete any and all tasks you require. This includes everything from custom cabinetry to the installation of appliances and walling. Need simple or complex repairs? Not to worry! Give us a call. Let Classic Kitchen Designs build your dream kitchen today.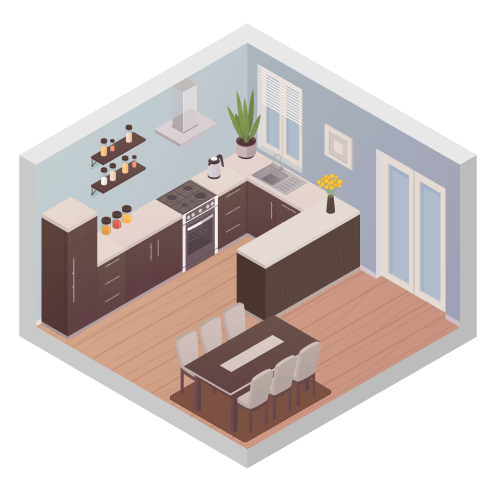 Call Now For a Free Consultation
For more information, call us today for a FREE consultation, no strings attached. We will get to working with you as soon as you sign on and provide approval. Your dream kitchen is closer than ever. As a matter of fact, it's just one call away!